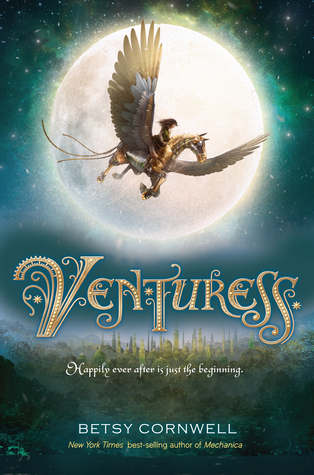 Publication date: August 1st, 2017
Publisher: Clarion Books
Series: Mechanica #2
Format: Paperback ARC, 320 pages
Source: Publisher
ADD TO GOODREADS
Amazon
Young inventor Nicolette Lampton is living her own fairy tale happy ending. She's free of her horrible step-family, running a successful business, and is uninterested in marrying the handsome prince, Fin. Instead, she, Fin, and their friend Caro venture to the lush land of Faerie, where they seek to put an end to the bloody war their kingdom is waging. Mechanical armies and dark magic await them as they uncover devastating secrets about the past and fight for a real, lasting happily-ever-after for two troubled countries—and for themselves.
**I received a copy of this book free from the publisher in exchange for an honest review.**
It's been almost two years since I read
Mechanica,
so I was expecting to have a hard time jumping back into this world, but surprisingly, it was an easy transition into this sequel.
Venturess picks back up with Nicolette preparing to leave the home she left behind for her new life as the famed first female mechanic in Esting City. The Faerie/Esting war is still going on and Prince Fin is trying to figure out a way to bring peace to both sides. Nicolette finds a way to help and suddenly she, Fin, and Caro are on their way to Faerie City to try and stop the war before it destroys everything and everyone they love.
I must say, that I really enjoyed this sequel. The ending of book one was so shocking to me because of course I expected Nic to end up with Fin, but she was not having it. Mechanica was such a great feminist story because she wanted to take her future into her own hands, and being romantically involved with someone would not help her.
Speaking of romance, it is complicated. Caro, Nic, and Fin are all involved with each other, but it borders less on romance and more on a family/friend type relationship. Venturess really explores what it means to be family, especially in Faerie where their families are very different than what we know.
There were also some old characters present in the story. My absolute favorite mechanical horse, Jules, was back! He did have a much smaller role this time around, but it was still magical. There is also the young airship captain, Wheelock, who I really enjoyed.
Venturess is definitely darker than book one. The truth about the mysterious Ashes is finally revealed, and it was shocking!
One thing I think was missing from Venturess was the lack of machines and building. Book one was very heavy with that and it was really enjoyable. There is some here and there, but definitely not like there was.
There wasn't much that I disliked except for certain characters and one plot point. Nothing was explained about the mysterious storm that almost killed everyone. It was pretty much glossed over and not brought up again, even though nobody knew where it came from. Considering that it was kind of a big event, I was hoping that we would be told who or what brought the magical storm on.
Other than that I really loved this sequel. The characters were more developed, the story progressed, and the pacing was much faster than the first book.
I am very eager to see how the story finishes, because it's such a great reimagining of Cinderella. Pick up Venturess if you enjoyed Mechanica and want more of this wonderful world!