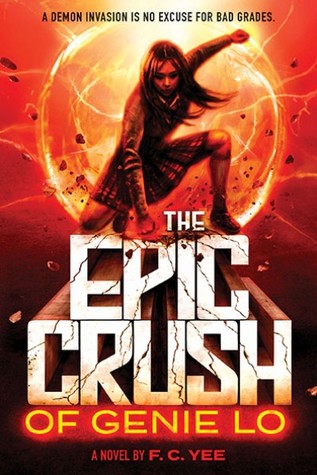 Publication date: August 8th, 2017
Publisher: Amulet Books
Series: None
Format: e-ARC
Source: Netgalley
ADD TO GOODREADS
Amazon
The struggle to get into a top-tier college consumes sixteen-year-old Genie Lo's every waking thought. But when her sleepy Bay Area town comes under siege from hell-spawn straight out of Chinese folklore, her priorities are suddenly and forcefully rearranged.



Her only guide to the demonic chaos breaking out around her is Quentin Sun, a beguiling, maddening new transfer student from overseas. Quentin assures Genie she is strong enough to fight these monsters, for she unknowingly harbors an inner power that can level the very gates of Heaven.



Genie will have to dig deep within herself to summon the otherworldly strength that Quentin keeps talking about. But as she does, she finds the secret of her true nature is entwined with his, in a way she could never have imagined…
**I received this book free from Netgalley and Amulet Books in exchange for an honest review.**
This was such a FUN book! I wanted something funny and action packed, and this did not disappoint! 

Keep in mind that I know absolutely nothing about Chinese mythology, but it was easy enough to follow along throughout the book. I loved learning mythology from another culture. 

First of all, I loved Genie. She was tall, angry, and determined to get into the best school out there. She's also sarcastic and funny as hell. While the other girls in her school were swooning over Quentin, she was trying to get the hell away from him. She actually punches him at one point in the beginning of the book! Genie has an old school Chinese mother who basically wants Genie to marry into a wealthy Chinese family, but Genie doesn't want that. She wants to make her own life. 

I wasn't really sold on Quentin as the love interest. He definitely did some stalking at the beginning of the book, and Yee wrote it so that readers know it was not right, but it still felt weird to me. Personally, the book would have been better without the romance. Genie would still be awesome without it. 

Pace wise, this was a fast read. There was never a dull moment, even when there were no action scenes. Genie has to balance her real life with her new one, and it feels very real. She's still studying her butt off trying to get into her dream school, while dealing with intense family issues, and now having to fight demons. 

My only complaints were that the fight scenes were too short and the "epic" battle was a bit of a letdown. Also, a few characters got pushed to the side and were never really talked about or explained, like Androu Glaros, the senior that seems to have a thing for Genie. Other than that, it was fantastic!

I think that Chinese-American teens will love this book because it is by an OwnVoices author. You can tell that Yee took her real experiences and put them into the story. Basically, anyone will love this book because it is that good.