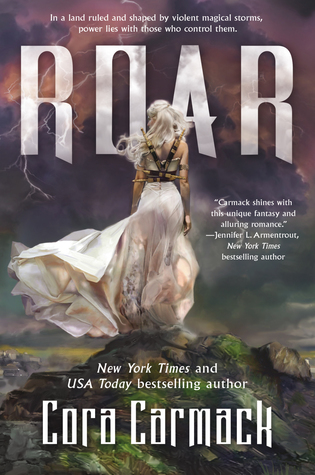 Publication Date: June 13th, 2017
Publisher: Tor Teen
Series: Stormheart #1
Format: Paperback ARC, 380 pages
Source: Trade
ADD TO GOODREADS
Amazon
Aurora Pavan comes from one of the oldest Stormling families in existence. Long ago, the ungifted pledged fealty and service to her family in exchange for safe haven, and a kingdom was carved out from the wildlands and sustained by magic capable of repelling the world's deadliest foes. As the sole heir of Pavan, Aurora's been groomed to be the perfect queen. She's intelligent and brave and honorable. But she's yet to show any trace of the magic she'll need to protect her people.



To keep her secret and save her crown, Aurora's mother arranges for her to marry a dark and brooding Stormling prince from another kingdom. At first, the prince seems like the perfect solution to all her problems. He'll guarantee her spot as the next queen and be the champion her people need to remain safe. But the more secrets Aurora uncovers about him, the more a future with him frightens her. When she dons a disguise and sneaks out of the palace one night to spy on him, she stumbles upon a black market dealing in the very thing she lacks—storm magic. And the people selling it? They're not Stormlings. They're storm hunters.



Legend says that her ancestors first gained their magic by facing a storm and stealing part of its essence. And when a handsome young storm hunter reveals he was born without magic, but possesses it now, Aurora realizes there's a third option for her future besides ruin or marriage.



She might not have magic now, but she can steal it if she's brave enough.




Challenge a tempest. Survive it. And you become its master.
Seriously, that was my thought process as I read Roar, and it really disappointed me because this had been one of my most anticipated reads of the year. Please allow me to explain why.
I am a HUGE Fantasy fan, I mean really huge. The majority of the books I read are predominantly Fantasy because I love made up worlds full of magic and interesting characters. Roar definitely has a wonderful world with magic and interesting characters, but that is where the good points ended.
First of all, there was a serious plot hole that I cannot believe nobody said anything about. The family that comes to Pavan to marry their son off to Aurora has two sons, and throughout the book they deceive everyone about who is actually the eldest. Now, I'm not a Fantasy expert, but most of the books I have read usually make it a point to let the reader know that royal families must know the family history of other royal families around them. But I guess that in this world, royal families don't learn about each other.
The other thing that killed my enjoyment of Roar was the awful "romance." I say that in quotes because it was the saddest excuse for a romance that I have read about in a really long time. Basically, both male LI were extreme alpha males hell bent on possessing Aurora for themselves. There was a lot of thoughts about wanting to claim her body for their own, growling at other males that were flirting with her, and all around caveman behavior with her.
Here are a few quotes from Locke, the second male love interest. He is worse than the first one.
"I'm the first to touch this mouth? To taste it?" Her nails dug into his shoulders, and her blue eyes flashed with heat. She nodded, her tongue darting out to soothe the skin he had tugged between his teeth. "That means it's mine. My territory. And I'm prepared to protect it, every hour of the day if I must."
He should let her go. He knew her well enough now to know that manhandling her would only make her fight harder. But he was too distracted by the way her body fit against his own. Her soft hair tickled his neck. Even more startling, she had stopped fighting him completely. Her body sank against his, her back pressed against his chest and abdomen. He became acutely aware of where his arms wrapped around her shoulders and her midsection. She sucked in a breath, and the rise and fall of her chest moved through both of them.
So yeah, that is basically assault/abuse right there. I just do not understand how people thought this was/is okay to have in the book. It's not cute, and it's not romantic.
Aurora was eating it all up because she had been raised in a palace that she was never allowed to even step foot outside of over fears that her secret would be exposed. It wasn't her fault that she was innocent and naive. Her character reminded me of another princess who was also sheltered all of her life....
But unlike Aurora, Jasmine and Aladdin were less insta-love/lusty. To be perfectly honest, the book would have been just fine without the horrific romance thrown into it. Plus, as this is a YA book, I would hope that young women/men reading Roar would not find that kind of romance ok.
Anyway, as I said up above, I really like the world and the storm magic. It will be interesting to see where future books go because of Aurora's ability. Let's face it, we all knew that she would end up being different from everyone else. It's a classic YA trope.
So, will I continue the series? Yes, because I really like the storm magic aspect. But I will pray to all that is holy that the alpha male caveman romance gets better or is stopped, and I will also be waiting to get it from the library.