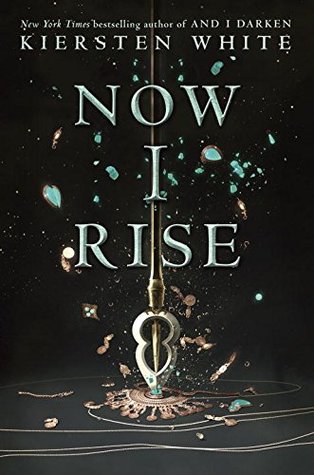 Publication Date: June 27th, 2017
Publisher: Delacorte Press
Series: The Conquerer's Saga #2
Format: Paperback ARC, 496 pages
Source: ALAMW
ADD TO GOODREADS
Amazon
Lada Dracul has no allies. No throne. All she has is what she's always had: herself. After failing to secure the Wallachian throne, Lada is out to punish anyone who dares to cross her blood-strewn path. Filled with a white-hot rage, she storms the countryside with her men, accompanied by her childhood friend Bogdan, terrorizing the land. But brute force isn't getting Lada what she wants. And thinking of Mehmed brings little comfort to her thorny heart. There's no time to wonder whether he still thinks about her, even loves her. She left him before he could leave her.



What Lada needs is her younger brother Radu's subtlety and skill. But Mehmed has sent him to Constantinople—and it's no diplomatic mission. Mehmed wants control of the city, and Radu has earned an unwanted place as a double-crossing spy behind enemy lines. Radu longs for his sister's fierce confidence—but for the first time in his life, he rejects her unexpected plea for help. Torn between loyalties to faith, to the Ottomans, and to Mehmed, he knows he owes Lada nothing. If she dies, he could never forgive himself—but if he fails in Constantinople, will Mehmed ever forgive him?



As nations fall around them, the Dracul siblings must decide: what will they sacrifice to fulfill their destinies? Empires will topple, thrones will be won . . . and souls will be lost.
When I read And I Darken last year, I did not think that I could love Lada any more than I already did. But I was so wrong. She is even more badass this go around, because the stakes are higher than ever for her and Wallachia.
Meanwhile, Mehmed is attempting to conquer Constantinople, the jewel of the Orthodox religion. He is trying to expand his empire to become more powerful, even though it seems that the odds are stacked against him. But helping him in the shadows is Radu, Lada's brother. Mehmed has tasked him with obtaining information that will help him secure his empire. Radu is reluctant to leave Mehmed's side, as he is still very much in love with him, but he knows that he must do whatever Mehmed needs in order to win his victory.
Countries away, Lada is trying to win back the Wallachian throne. She has her loyal men by her side, but no other outside help. She must rely on herself to secure the throne, or she will die trying. Don't be fooled though, Lada is not afraid of death. She will do whatever it takes to get her throne back.
Now I Rise
is darker, deadlier, and the stakes are higher than ever for everyone involved. History told us that Constantinople did in fact fall to the Turks, so there is no surprise there. It's interesting to read Kiersten White's take on history though.
We are introduced to old characters as well as some new ones, and it will be interesting to see how these relationships play out over the course of the next book. Betrayals, murder, and intrigue are all present in this sequel to the amazing
And I Darken
. Prepare yourself, because this sequel is fast paced and dark!
One of my favorite parts was the ending, because it was exactly what I would expect from a fierce badass like Lada.