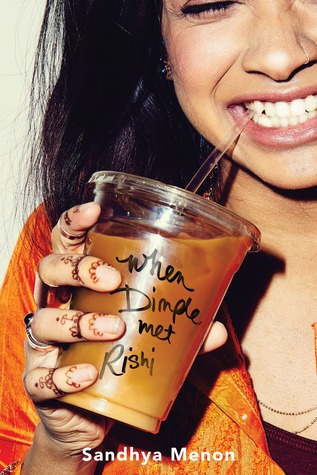 Publication date: May 30th, 2017
Publisher: Simon Pulse
Series: None
Format: Paperback ARC, 320 pages
Source: ALAMW
ADD TO GOODREADS
Amazon
Dimple Shah has it all figured out. With graduation behind her, she's more than ready for a break from her family, from Mamma's inexplicable obsession with her finding the "Ideal Indian Husband." Ugh. Dimple knows they must respect her principles on some level, though. If they truly believed she needed a husband right now, they wouldn't have paid for her to attend a summer program for aspiring web developers…right?
Rishi Patel is a hopeless romantic. So when his parents tell him that his future wife will be attending the same summer program as him—wherein he'll have to woo her—he's totally on board. Because as silly as it sounds to most people in his life, Rishi wants to be arranged, believes in the power of tradition, stability, and being a part of something much bigger than himself.
The Shahs and Patels didn't mean to start turning the wheels on this "suggested arrangement" so early in their children's lives, but when they noticed them both gravitate toward the same summer program, they figured, Why not?
Dimple and Rishi may think they have each other figured out. But when opposites clash, love works hard to prove itself in the most unexpected ways.
I had heard great things about When Dimple Met Rishi, so of course my expectations were high. I am pleased to report that this book was AMAZING and exceeded my expectations.
Dimple was the perfect MC. She was so spirited and sure of herself in everything. Dimple is smart and passionate about what she loves, and that was coding. As the daughter of Indian immigrants, she wanted to be different than the demure Indian daughters around her. She wanted her own dreams and life, not a husband. Dimple's desire to break away from her traditional family is what I imagine so many children of immigrants struggle with.
Rishi was such a wonderful love interest. He was the exact opposite of Dimple. While Dimple was focused on her life and her career, Rishi was focused on finding a love like his parents had, and trying to be the best Indian son he could be. I also loved how he was the more romantic of the two. His dates were perfection!
Two complete opposites meeting in extremely unusual circumstances.....what could possibly go wrong?! There was also parts in the story where Dimple and Rishi had to do a lot of self-evaluation after important things happen. I loved how they both got courage to do what they wanted, despite their families.
WDMR had everything that a debut should-smart and sassy characters, fantastic banter/dialogue between the two, the exploration of what happens when a non-traditional girl goes against her traditional family, a swoon worthy romance, and great incorporation of Indian culture.
Also, I have to mention the cover. When I first saw it, I really didn't understand what it had to do with the story but the coffee is very important!
I wish that ALL contemporaries were like this one, because it was pure perfection and I immediately want more like it!