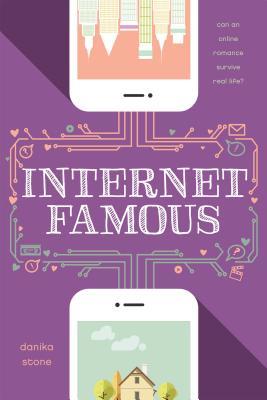 Publication Date: June 6th, 2017
Publisher: Swoon Reads
Series: None
Format: e-ARC
Source: Netgalley
ADD TO GOODREADS
Amazon
High school senior and internet sensation Madison Nakama seems to have it all: a happy family, good grades, and a massive online following for her pop-culture blog. But when her mother suddenly abandons the family, Madi finds herself struggling to keep up with all of her commitments.



Fandom to the rescue! As her online fans band together to help, an online/offline flirtation sparks with Laurent, a French exchange student. Their internet romance—played out in the comments section of her MadLibs blog—attracts the attention of an internet troll who threatens the separation of Madi's real and online personas. With her carefully constructed life unraveling, Madi must uncover the hacker's identity before he can do any more damage, or risk losing the people she loves the most… Laurent included.
**I received this book from Netgalley for free in exchange for an honest review.
This is the type of story that I love to read after feeling burned out on too many Fantasy reads. It was cute, light hearted, and even had a few real life situations for people to relate to.
First off, I have to say that I was not in love with Laurent. Okay, he was cute, and did some adorably sweet things for Madi, but he was aggravating other times. Made told him that she has issues with meeting people IRL but he kept pressuring her to come out with her fans. He also would let her online fan base know when she was online even when she didn't want that to be known. And let's not get started when he got mad at her over a genuine concern and went completely radio silent. Up until that point he is basically portrayed as perfect throughout the book.
Her parents were also infuriating. Madi's mother essentially abandons her family and responsibilities to go teach across the pond and she acts like it is no big deal. They count on Madi to take care of Sarah, her autistic sister, even though Madi is still pretty much a kid herself. Charles Nakama is so absorbed with his work and trying to keep a perfect family images for his readers, that he fails in his duties as a father. He would rather Madi handle everything than deal with it. I'm glad that both her mother and father shaped up towards the end, but I couldn't even imagine going through life with parents that expected me to do everything when it came to an autistic sibling.
I really loved the concept of Madi's blog and the incorporation of social media into the book. We got to see Madi's posts, reblogs, texts, and a variation of snapchats between her and Laurent. It definitely kept things interesting.
Madi had to deal without a lot throughout the story. After she "reveals" herself to her fans and starts her relationship with Laurent, a troll comes into her life and threatens to destroy everything. This person knows who she really is, where she lives, and even threatens her father's profession. These are very real issues that people deal with in real life, and I am glad that they were plot points in the book.
If you are in the mood for a light, cute read with relatable real world issues, Internet Famous will be the one for you!