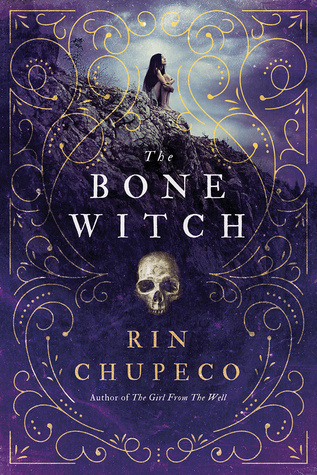 Publication Date: March 7th, 2017
Publisher: Sourcebooks Fire
Series: The Bone Witch #1
Source: Library
Format: Hardcover, 400 pages
ADD TO GOODREADS
Amazon
Tea is different from the other witches in her family. Her gift for necromancy makes her a bone witch, who are feared and ostracized in the kingdom. For theirs is a powerful, elemental magic that can reach beyond the boundaries of the living—and of the human.



Great power comes at a price, forcing Tea to leave her homeland to train under the guidance of an older, wiser bone witch. There, Tea puts all of her energy into becoming an asha, learning to control her elemental magic and those beasts who will submit by no other force. And Tea must be strong—stronger than she even believes possible. Because war is brewing in the eight kingdoms, war that will threaten the sovereignty of her homeland…and threaten the very survival of those she loves.
To be honest, I did struggle with The Bone Witch towards the middle where it slows down as Tea begins her life in the asha-ka. I found myself bored a few times, but then something would happen which would perk me up again. I can see how the slow pacing might affect readers, but my advice is to stick with it, because this series has the potential to be amazing! Another thing that I have seen is that people had issues with the interview portions before each chapter. It was a little confusing at first, but it is important to understand why things are happening.
Tea, pronounced (Tey-Uh), becomes a Bone Witch after accidentally raising her brother from the dead. There are not many Bone Witches in her world, so they are often feared and revered for their use of Dark Magic. She is picked up by an older experienced Bone Witch, and then taken to the Willows to see if she is accepted by the Oracle to start her journey to become an asha.
Along for the ride is her brother, Fox, whom she brought back to life. Fox is her familiar, which also makes him her bodyguard. I loved their relationship. They had such a strong bond that could be felt in their thoughts, since they were so close.
Tea meets many new people when she arrives at the asha compound known as the Willows. Some are friendly, and some are not. There is a lot of girl nastiness in The Bone Witch. Ashas reminded me of Geishas, because they are expected to dress up and attend parties where they get paid, and part of that payment goes toward their House, or asha-ka. So of course there would be rivalries between the girls, but it was still disappointing to see more girls hating girls in YA.
I really liked Tea. She was strong and determined, and very loyal to those she loved. I liked how she stood up to the asha council and her house mistress when they were being unreasonable. She turned into a force to be reckoned with by the end of the book, which was a big change from being the shy and scared girl who arrived at the Willos at the beginning. Although I am scared to see her transition from a powerful asha to a much more powerful dark magic wielder. Based on the interviews before each chapter, it doesn't look good.
There was also a lot of info dumping at times, but most of the information was important to the story. The author built a very magical world filled with deadly creatures, spies, intrigue, and more. Rin's writing was very beautiful and descriptive. The clothes and food descriptions were so lush and vivid, I could picture them in my mind.
The biggest surprise to me was the very last page of the book. I was completely shocked because I totally thought that the story was going in one direction, but it went into a completely different one. It will definitely make things interesting for the next books, which I am now eagerly awaiting.
Put this one on your list, because it will not disappoint!