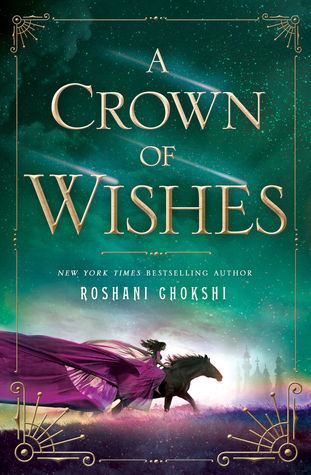 Publication Date: March 28th, 2017
Publisher: St. Martin's Griffin
Series: The Star-Touched Queen #2
Format: e-ARC
Source: Publisher
ADD TO GOODREADS
Amazon
Gauri, the princess of Bharata, has been taken as a prisoner of war by her kingdom's enemies. Faced with a future of exile and scorn, Gauri has nothing left to lose. Hope unexpectedly comes in the form of Vikram, the cunning prince of a neighboring land and her sworn enemy kingdom. Unsatisfied with becoming a mere puppet king, Vikram offers Gauri a chance to win back her kingdom in exchange for her battle prowess. Together, they'll have to set aside their differences and team up to win the Tournament of Wishes—a competition held in a mythical city where the Lord of Wealth promises a wish to the victor.
Reaching the tournament is just the beginning. Once they arrive, danger takes on new shapes: poisonous courtesans and mischievous story birds, a feast of fears and twisted fairy revels. Every which way they turn new trials will test their wit and strength.
But what Gauri and Vikram will soon discover is that there's nothing more dangerous than what they most desire.
I fell in love with Roshani's lush and descriptive writing in her debut book,
The Star-Touched Queen
. The pages were filled with such detailed and beautiful descriptions about clothing, food, and the world that she created and built from Indian mythology.
I am happy to report that this beautiful book was also filled with lush and detailed writing. Gauri and Vikram's world is dark and full of magic, even if they can't see it. They are both struggling to accept their places in the world, so the Tournament of Wishes offers a means to get what they both want.
Gauri was not so likable at first, because of her fierce personality and stubbornness to accept that not everyone around her wants to hurt her. Her character went through a ton of growth, especially at the end when she finally realized where the true issues lay.
Vikram, on the other hand, was extremely likable from the get go. He is the prince of his kingdom, although he has secrets that he must keep buried in order to keep his title. Vikram is smart and cunning, and longs for something more, something magical. I loved his heart and his belief in magic.
Their relationship was extremely wonderfully written. Both started off hating each other, mostly because of the fact that their kingdoms were enemies, but also because Gauri was a prisoner in Vikram's kingdom and the only way she could win her freedom was to participate in the Tournament of Wishes with him. Slowly but surely, their icy relationship turned warmer and warmer, until they both developed feelings for each other. It was a very delicious slow burn, because insta-love in these types of situations does not make for a good read. I also loved their banter towards each other.
ACoW introduces another wonderful secondary character, Aasha. Since the story is divided in three separate POV's, we got to read the story through Aasha's eyes. Her story was so sad and beautiful at the same time. She is a Vishakanya, a magical creature whose touch could kill any living being. But Aasha also longs for something more than her existence, and that is also where the Tournament comes in.
All three characters are faced with their own trials, both internal and in the Tournament. They are also bound to each other in a way, because there are threats inside the magical world that would do anything to get what they want.
My main complaint about the book is that everything seemed to be really easy for Vikram and Gauri, and that they were never in any danger it seemed. Of course they were both smart and quick thinkers, but it would have been more interesting to see more struggle.
If you didn't really care for TS-TQ because of the plot, which may have been slow for some, you will definitely enjoy ACoW more. It is more faced paced and plot driven, rather than focusing on the characters.
Also, the cover is equally as gorgeous as TS-TQ, which is important to many people, including me! Go forth and pre-order this beauty now, because you won't be disappointed!
Roshani Chokshi is the New York Times bestselling author of The Star-Touched Queen. Her work has appeared in Strange Horizons, Shimmer, and Book Smugglers. Her short story, "The Star Maiden," was long listed for the British Fantasy Science Award.
Roshani's twitter: @NotRashKnee