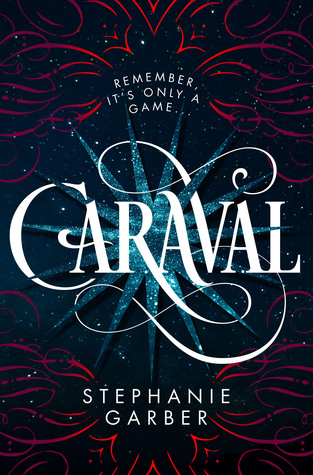 Publication Date: January 31st, 2017
Publisher: Flatiron Books
Series: Caraval #1
Format: Hardcover, 407 pages
Source: Purchased
ADD TO GOODREADS
Amazon
Scarlett has never left the tiny island where she and her beloved sister, Tella, live with their powerful, and cruel, father. Now Scarlett's father has arranged a marriage for her, and Scarlett thinks her dreams of seeing Caraval, the far-away, once-a-year performance where the audience participates in the show, are over.



But this year, Scarlett's long-dreamt of invitation finally arrives. With the help of a mysterious sailor, Tella whisks Scarlett away to the show. Only, as soon as they arrive, Tella is kidnapped by Caraval's mastermind organizer, Legend. It turns out that this season's Caraval revolves around Tella, and whoever finds her first is the winner.



Scarlett has been told that everything that happens during Caraval is only an elaborate performance. But she nevertheless becomes enmeshed in a game of love, heartbreak, and magic with the other players in the game. And whether Caraval is real or not, she must find Tella before the five nights of the game are over, a dangerous domino effect of consequences is set off, and her sister disappears forever.
Caraval was unlike any story I have read recently. There is magic, mystery, romance, great sibling bonds, adventure, and more. Stephanie Garber managed to create a world where if one has access to Caraval, one can have their heart's desire....for a price. It could be a secret, or it could be your time, but be warned. Nobody in Caraval is who they seem to be....
Scarlett was a very relatable Main Character. She was so real and relatable with her actions. It was obvious that she loved her sister more than anything, and was willing to do anything for her, including taking beatings from their father. Scarlett was smart, clever, and compassionate. She tried to see the good in everyone, which was not always the best idea. All she wants is to keep her sister safe, and to do that, she must win the game.
The game of Caraval is extremely complicated and dangerous. Even though it is "just a game," the stakes are high and nothing is what it seems so Scarlett has to be extra careful.
I loved Julian, because he was one of those cocky guys that knew he was cute but he also had a totally different side to him, like when he did something big for Scarlett. I didn't like him at first, but he definitely grew on me.
I don't know how I feel about Legend. He seemed to be a villain but then the ending made me question a few things. He could be a villain on the road to reform, or someone else could be pulling his strings. It will be interesting to see how everything plays out.
The romance was alright. It wasn't 100% swoon worthy, but I wouldn't say it was insta-lovey. Julian had some moments where he did some knight in shining armor deeds though. The task of finding Tella did tend to take a backseat when Scarlett was thinking about Julian.
Caraval's
writing reminded me of
The Star Touched Queen.
It was beautiful, and so descriptive. There were also metaphors that were not as annoying as those in
Nevernight.
One thing that I wish was touched more upon was how the magic worked and I would have liked more backstory on Scarlett's world.
If you want a read that will keep you guessing until the end, this is it. You will think that you have it all figured out, but then the game will change.
Bring on book two, because I have so many questions!