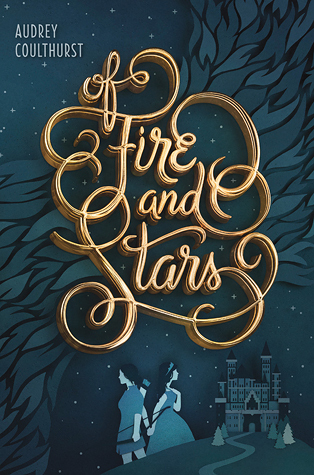 Publication date: November 22nd, 2016
Publisher: Balzer
+
Bray
Series: None
Format: Hardcover, 389 pages
Source: Library
ADD TO GOODREADS
Amazon
Betrothed since childhood to the prince of Mynaria, Princess Dennaleia has always known what her future holds. Her marriage will seal the alliance between Mynaria and her homeland, protecting her people from other hostile lands. But Denna has a secret. She possesses an Affinity for fire—a dangerous gift for the future queen of a kingdom where magic is forbidden.
Now, Denna must learn the ways of her new home while trying to hide her growing magic. To make matters worse, she must learn to ride Mynaria's formidable warhorses—and her teacher is the person who intimidates her most, the prickly and unconventional Princess Amaranthine—called Mare—the sister of her betrothed.
When a shocking assassination leaves the kingdom reeling, Mare and Denna reluctantly join forces to search for the culprit. As the two become closer, Mare is surprised by Denna's intelligence and bravery, while Denna is drawn to Mare's independent streak. And soon their friendship is threatening to blossom into something more.
But with dangerous conflict brewing that makes the alliance more important than ever, acting on their feelings could be deadly. Forced to choose between their duty and their hearts, Mare and Denna must find a way to save their kingdoms—and each other.
Oh how I really wanted to love this one! That GORGEOUS cover plus the synopsis made me rush to my library so I could start reading.
At the start of the book we are thrust into this world in which Princess Denna is about to leave for her new home, Mynaria, to marry the Prince. We learn that she has a fire affinity, which she must keep secret in order to protect herself. For whatever reason, magic is not liked at all by her kingdom or by Mynaria. It is never explained why that is. We are just supposed to roll with it.
When Mare and Denna meet, it is clear that they dislike each other. Mare regards Denna as a spoiled princess and Denna sees Mare as a cold and distant tomboy. Prince Thandi, on the other hand, is one of the most generic and boring males in a YA book that I have come across lately. He acts like a spoiled petulant child when it comes to things like attending meetings about his future kingdom. He whines. A lot. Thandi also only sees Denna as a pretty princess who is not capable of much. Everyone arounds Denna tends to underestimate her, until she and Mare get close. I enjoyed Denna and Mare. They were both extremely strong and smart, and totally underestimated. They both had a fierce determination about them.
I really enjoy how slow burning their romance was. They started out not liking each other because Mare was forced to teach Denna how to ride, then they became partners in the investigation of the Rescuants, then friends, and finally, reluctant lovers. I say reluctant because they both knew that admitting their love for one another would be nothing but trouble for the kingdom. It was obvious that they loved each other very much, but duty was preventing the two princesses from their romance.
Now, let's move on to what I didn't like.
When a character gets assassinated in the beginning, you would think that the kingdom would be even more guarded than usual, especially since the captain of the guard was close to the person killed. Nope. Soon after, there is an assassination attempt on the King and he has only ONE guard with him. The others were supposed to be outside guarding the door but they left their post because of whatever reason. There is also another attempt on a different character and still the castle was not as guarded as it should have been. It's like, why even bother with guards if security is not going to be stepped up and they can't even do their jobs?
There is also the Directorate, or what I like to call the Council. These are adults who are squabbling amongst each other instead of listening to the two people who are actually trying to solve the issue of who is behind the murders and attacks. They are so quick to blame a neighboring kingdom without listening to reason or evidence. It was infuriating, and a little ridiculous because a well governed kingdom would have a really good Council.
The big bad villain was obvious from the beginning. I really wanted more mystery and tension surrounding the identity, because it was just too easy.
The world building could have been better, but it wasn't as bad as some of the reviews make it out to be. Yes, I would have appreciated more background to this world, such as why magic was hated, and why the kingdoms were at each other's throats, but it did not detract from the story. It was still entertaining.
I am really hoping that there will be a sequel or at least a spinoff because the ending was SO open. It left me with so many questions and a feeling of immediately wanting to know what was going to happen next.
Overall, this was a nice debut with a good slow burning romance. I would definitely read a sequel.