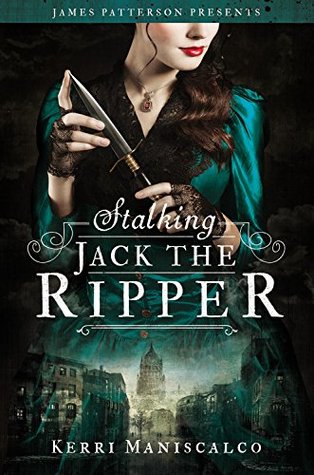 Publication Date: September 20th, 2016
Publisher: Jimmy Patterson
Series: SJTR #1
Format: Hardcover, 326 pages
Source: Library
ADD TO GOODREADS
Amazon
Seventeen-year-old Audrey Rose Wadsworth was born a lord's daughter, with a life of wealth and privilege stretched out before her. But between the social teas and silk dress fittings, she leads a forbidden secret life.

Against her stern father's wishes and society's expectations, Audrey often slips away to her uncle's laboratory to study the gruesome practice of forensic medicine. When her work on a string of savagely killed corpses drags Audrey into the investigation of a serial murderer, her search for answers brings her close to her own sheltered world.
I really need to stop hyping myself up for books that just don't deliver. I don't want to keep getting disappointed.
SJTR was one of my most anticipated reads of 2016 and since it was being praised by pretty much everyone, I was even more excited to get my hands on it. Unfortunately, I had some issues that made my reading experience less than stellar.
What I thought would be a fast paced thrill ride turned out to be rather boring. I was expecting a really heart pounding mystery full of twists and turns but it was so generic. I NEVER figure out mysteries, like ever. I consider that a good thing because it means I will be surprised by the book's end. That was not the case here. I figured out who Jack the Ripper was in less than 100 pages. Talk about a let down. The ending revealed who he was and why he was doing it, which was even worse. His entire reasoning for the killings was kind of ridiculous and out there. It didn't really make sense to me, especially given the time period. I understand that he was sort of mad, but it still was messy.
Then there is Audrey Rose. She is smart and just wants to be free from society's rules so she can do what she loves, which is cutting up dead people for scientific purposes. That's all fine and dandy, but throughout the book I thought I was reading about a modern girl who got transported to the 19th century, not an actual woman from that time. We are also told many times about how she's not like other women her age and how she wants to free herself from the chains of society. It was repetitive. Audrey Rose also made some really stupid decisions to try and prove like she was just as capable as a man. For example, she goes out by herself to a seedy part of the city the night after a murder takes place to try and find the murderer. I mean, really?
I'm not going to go into much detail about Audrey Rose and Thomas's "relationship" because it felt forced and lacked a lot. They didn't do anything to show me that they were in love except bantering back and forth a lot.
Basically, there was not much stalking and too much back and forth dialogue between Audrey Rose and Thomas to see who was the superior one. For both of their brains combined, their theories about who the actual Ripper was were way off base. They should have spent more time actually trying to find the real killer rather than trying to be Sherlock Holmes and Dr. Watson.
I must say that Kerry's descriptions of the murders were absolutely gruesome, so if you have a weak stomach, that might not be good for you. The actual pictures before the chapters were really interesting and added more to the time period that was written.
Stalking Jack The Ripper
had the potential to be amazing but it just didn't live up to the hype for me. Will I read the next book? Possibly, but I will most likely get it from the library if I do.