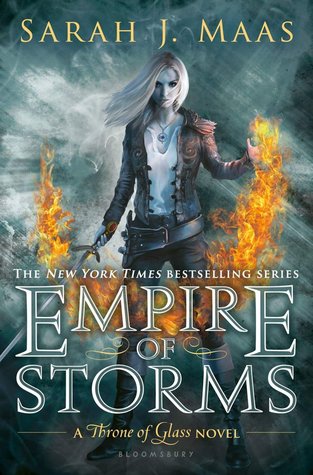 Publication Date: September 6th, 2016
Publisher: Bloomsbury Childrens
Series: Throne of Glass #5
Format: Hardcover, 704 pages
Source: Library
ADD TO GOODREADS
Amazon
The long path to the throne has only just begun for Aelin Galathynius. Loyalties have been broken and bought, friends have been lost and gained, and those who possess magic find themselves at odds with those who don't.

As the kingdoms of Erilea fracture around her, enemies must become allies if Aelin is to keep those she loves from falling to the dark forces poised to claim her world. With war looming on all horizons, the only chance for salvation lies in a desperate quest that may mark the end of everything Aelin holds dear.
I FINALLY managed to finish Empire of Storms and I have a lot of thoughts running through my head. Bear with me if this sounds crazy.
Yes, I rated it three stars because it shocked me multiple times and I love Sarah's writing, world building, and the overall plot had me screaming a few times. But, my main issues with it were the characters and how they acted. Plus, their were the endless ships the Maas was trying to push. Seriously, why did almost every main character need to be paired off?!
Let me first start off by saying that this was my favorite fantasy series. Then Queen of Shadows happened. I still loved it, but it just felt off. Aelin and Rowan were never meant to be what they became in Queen of Shadows. Personally, I loved their platonic relationship in Heir of Fire. They were bitter enemies turned friends who went up against a crazy bitch queen, which was really amazing. Their magical sex scene in EoS was laughable. Seriously, I was chuckling throughout it because of how cheesy it was. Then they went on and had even more sex throughout the book. Don't get me wrong, sex is good and all, but when you have two VERY powerful people trying to destroy you and everyone you love, sex should be the very last thing on your mind. But no, Rowan and Aelin thought about sex 99% of the time. Plus, Aelin was annoying AF this go around. She always had to remind people that she was a queen even when she was off making stupid decisions and not trusting the people around her with what she wanted to do.
Then we had Dorian and Manon. I loved Manon from her debut in Heir of Fire. She was powerful, deadly, and she did not take shit from anyone. Manon Blackbeak would never bow to anyone yet she was constantly being submissive around Dorian because he was sexy and her body had needs. Not even joking. Dorian was acting like he was some hard ass around her, which made no sense. I understand that he went from hell and back because of what had been done to him, but this was another level. Plus, Manon did not seem to be straight to me because I always thought she had a thing for Asterin, but ok.
I'm not even really going to go into the other two pairings because all this is making my head hurt. I'm also not going to talk about the absence of Chaol, one of the main characters of this series because it pisses me off. I didn't like him at the end of book one, but he was still important to the entire series. But whatever.
What was Maas's obsession with making EVERYONE a royal? We had a total of FOUR Queens present in EoS!! Was that necessary? Also, does everyone have to be so damn attractive that all anyone can see is how beautiful or how hot they are? What about their other qualities? Nope, being hot is important.
The ending, was a mess because it was almost EXACTLY like the ending of A Court of Mist and Fury. I understand that she was writing two series at the same time, but come on. A little originality would not have hurt anyone.
I'm just disappointed that this series has gone downhill since Heir of Fire. It's not the same, and will most likely never be.
I would rate this lower, but like I said, the plot intrigued me especially with the problem of Maeve, and I am already so invested in this damn series that I won't be able to quit until it's over. I'm just hoping that Maas goes back to her roots with the final book.
Oh, and I will never be able to get, "VELVET WRAPPED STEEL," out of my damn head.