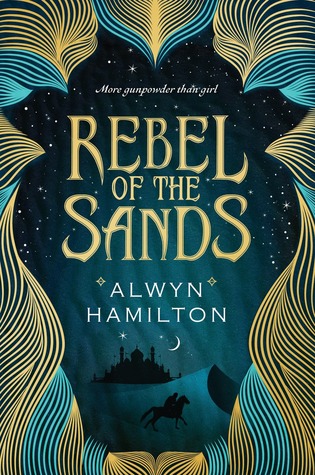 Publication Date: March 8th, 2016
Publisher: Viking Books for Young Readers
Series: Rebel of the Sands #1
Format: Hardcover, 320 pages
Source: Giveaway
ADD TO GOODREADS
Amazon
She's more gunpowder than girl—and the fate of the desert lies in her hands.

Mortals rule the desert nation of Miraji, but mystical beasts still roam the wild and barren wastes, and rumor has it that somewhere, djinni still practice their magic. But there's nothing mystical or magical about Dustwalk, the dead-end town that Amani can't wait to escape from.

Destined to wind up "wed or dead," Amani's counting on her sharpshooting skills to get her out of Dustwalk. When she meets Jin, a mysterious and devastatingly handsome foreigner, in a shooting contest, she figures he's the perfect escape route. But in all her years spent dreaming of leaving home, she never imagined she'd gallop away on a mythical horse, fleeing the murderous Sultan's army, with a fugitive who's wanted for treason. And she'd never have predicted she'd fall in love with him... or that he'd help her unlock the powerful truth of who she really is.
**I won this book in a giveaway. My review is my honest opinion.
I honestly had a hard time trying to figure out what to ultimately review this one. On one hand, I loved the Middle Eastern mythology aspect of it. On the other, the Western part was completely random and tended to distract from the overall story.
The characters have guns, swords, and knives but it's hard to nail down a specific time period for when this is supposed to be taking place. Then there are trains and ancient Djinni's roaming the dessert. I'll admit when I first heard about this series, I was really intrigued by the Western/Middle Eastern crossover but when I actually read the book, it didn't really work out for me. I would have preferred it if the Western bit had been left out. It took away from the story.
Then we have Amani, our lovely main character. She was a badass at the beginning. I loved the first three chapters because of how she was before she fell in love with a stranger. Amani hated her crappy life and wanted to escape it by any means necessary, which was understandable. She posed as a boy and beat out a bunch of men at a shooting competition. She even drugged Jinn up so that she could escape and do her own thing. But then she falls in love and silently vows to stay by his side pretty much forever. All her dreams get tossed to the wind because of him. It's not his fault, he tries to get her to do her own thing, but Amani doesn't want to leave him.
Really girl? You almost die trying to escape your town so that you can live out your life the way you want but the minute you fall in love everything you want is forgotten? Ugh. Let's not mention that Jinn wasn't that great of a love interest. I mean, he knew about her and lied to her for pretty much the entire book but of course she forgives him.
There was also a ton of info dumping. Names, ancient stories about destroyers of world, etc. I basically skimmed through all of the storytelling that happened in the book. Bottom line is, it got way too confusing.
This was one of my biggest disappointments of 2016 because I was really looking forward to it. I don't think I will continue with this series, unfortunately.