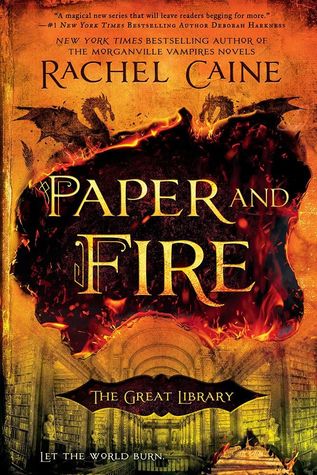 Publication Date: July 5th, 2016
Publisher: NAL
Series: The Great Library #2
Format: e-ARC
Source: Netgalley
ADD TO GOODREADS
Amazon
With an iron fist, The Great Library controls the knowledge of the world, ruthlessly stamping out all rebellion, forbidding the personal ownership of books in the name of the greater good.

Jess Brightwell has survived his introduction to the sinister, seductive world of the Library, but serving in its army is nothing like he envisioned. His life and the lives of those he cares for have been altered forever. His best friend is lost, and Morgan, the girl he loves, is locked away in the Iron Tower and doomed to a life apart.

Embarking on a mission to save one of their own, Jess and his band of allies make one wrong move and suddenly find themselves hunted by the Library's deadly automata and forced to flee Alexandria, all the way to London.

But Jess's home isn't safe anymore. The Welsh army is coming, London is burning, and soon, Jess must choose between his friends, his family, or the Library willing to sacrifice anything and anyone in the search for ultimate control…
**Thank you to Netgalley and NAL for granting me access to this title in exchange for an honest review.
Oh how I loved going back into the world of the Great Library! This is a scary world where books are illegal and all information comes from the Great Library. Owning a book could mean death, and there are those who are willing to risk it all for what they love.
Jess and his friends are backed in a thrilling faced paced adventure where the stakes are higher, and the consequences of actions could mean death for everyone.
I really enjoyed everything in Paper and Fire. The first 33% was slightly boring as it was building up to the action, but once it took off, things really started happening. Everything was intense and important to the story. So many secrets were revealed, and even things that were shocking.
Jess and company are competing in a race against time to save one of their own, all while being pursued by the deadliest and most important man in the world, the Archivist. He will stop at nothing to make sure that the Library's secrets stay buried, even turning to murder to silence those that oppose him.
All of the characters went through a major change from the end of book one. They are all harder, and not naive. They know the risks, and are willing to do whatever it takes to save their friend and take down the Library, once and for all.
For those of you wanting romance, there is not a lot of it present in Paper and Fire. The characters are struggling to stay alive in this brutal world, and that is the main focus.
My major issue with this series is how it is written in third person. I can't really connect with Jess as much as I want to because he seems so far away. If it had been written in first person, I would have connected with him on a better level.
As usual, Caine's writing is wonderful and she really knows how to build a lush world. From Alexandria to Rome, the little details that she wrote about really made me feel like I was a part of the story.
Wolfe and Santi will forever be my favorite couple from this series. There is so much quiet passion between those two. And I love it!
As in book one, Paper and Fire ended with an INSANE cliffhanger that left me shocked and immediately wanting more. I thought this one was intense, but I have a feeling book three will blow it out of the water!
I am eagerly anticipating the conclusion to this fantastic series.