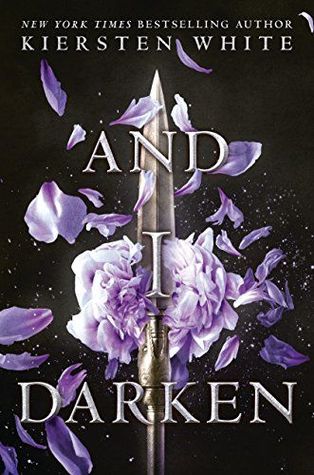 Publication Date: June 28th, 2016
Publisher: Delacorte Press
Series: The Conquerer's Saga #1
Format: Hardcover, 475 pages
Source: Netgalley
ADD TO GOODREADS
Amazon
NO ONE EXPECTS A PRINCESS TO BE BRUTAL.

And Lada Dragwlya likes it that way. Ever since she and her gentle younger brother, Radu, were wrenched from their homeland of Wallachia and abandoned by their father to be raised in the Ottoman courts, Lada has known that being ruthless is the key to survival. She and Radu are doomed to act as pawns in a vicious game, an unseen sword hovering over their every move. For the lineage that makes them special also makes them targets.

Lada despises the Ottomans and bides her time, planning her vengeance for the day when she can return to Wallachia and claim her birthright. Radu longs only for a place where he feels safe. And when they meet Mehmed, the defiant and lonely son of the sultan, who's expected to rule a nation, Radu feels that he's made a true friend—and Lada wonders if she's finally found someone worthy of her passion.

But Mehmed is heir to the very empire that Lada has sworn to fight against—and that Radu now considers home. Together, Lada, Radu, and Mehmed form a toxic triangle that strains the bonds of love and loyalty to the breaking point.
Thank you to Netgalley and Delacorte Press for granting me access to this title in exchange for an honest review.
This book, you guys. I just can't!
I must admit that I went into this book with low expectations. Too many books have been overhyped lately, and I did not want to buy into the hype and then be disappointed. The last line of the synopsis had me deeply worried, because it mentions a dreaded word in the Young Adult genre: TRIANGLE. I was scared at first, because I did not want to run into another stupid love triangle, but this book totally shattered my expectations and fears.
First off, LADA. Holy hell, this girl was intense from birth. She came into her world kicking and screaming. Her father wrote her off since she was a girl, but she was not like other girls. She was wild, feral, and not meant to be tamed. Quickly he changes his tune when he sees that she is more vicious than her younger brother ever will be. Lada was born in a time when women were seen as nothing more than property to men. They could be sold off to other nations to secure treaties at the drop of the hat. She knows that, and she does not want that for herself. So, she works extra hard to make sure everyone around her knows that they will never change or own her.
One of my favorite things about this amazing book was how Kiersten White portrayed most of the women in this story. Their world assumed them to be meek and useless, but many of them proved to be cunning and smart. They used their womanly ways to get what they needed, and it was wonderful to see the male characters surprised because they had been underestimated all their lives. You go ladies!
The characterization of the three main characters is also very well done. Lada goes from a vicious girl to a smart and confident young woman willing to open up her damaged heart. Don't confuse that for weakness though, because Lada still manages to kick some serious butt. Radu also changed drastically. He was the weak younger brother but during his captivity in the Ottoman courts he proved himself to be someone worth paying attention to. People tend to ignore quiet and meek individuals, but that just means they can listen…..As far as Mehmed's character goes, I am honestly "Meh" about him. He was ok, but not really on the same level of Lada and Radu.
Kiersten white spent some serious time researching for this book. Real people in history were mentioned and the descriptions of food, dress, architecture, etc was written so vividly. It was all wonderful. I love historical fiction and White managed to write a great Young Adult book about actual events in history while taking her own creative liberties with the story of Vlad the Impaler.
I need to mention the dreaded TRIANGLE because I know readers will be put off because of the wording in the synopsis. It is, but it isn't a love triangle. It's so heartbreaking. I can't explain it anymore without giving crucial information away, but please do not be put off by the fact that is says triangle.
Finally, the ending came. I was not prepared for what happened at the end. Usually in YA, couples ride off into the sunset together and everything is sunshine and rainbows but Kiersten White OBLITERATED that trope completely. You go Lada! That's all I am going to say.
I know some people will go into this expecting lots of impaling, but I will say that you need to be patient because this is only book one. The next two books will most certainly be darker and bloodier.