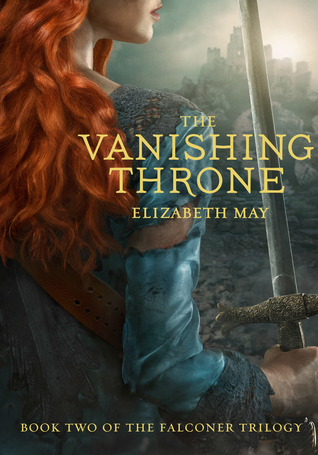 The Vanishing Throne by Elizabeth May

Publication Date: June 7th, 2016
Publisher: Chronicle Books
Series: The Falconer #2
Format: e-PUB
Source: Netgalley
Rating: 4 Stars
Amazon | B&N
ADD TO GOODREADS
The second book in the Falconer trilogy is packed with surprises and suspense.

Aileana Kameron, the Falconer, disappeared through the portal that she was trying to close forever. Now she wakes up in the fae world, trapped and tortured by the evil Lonnrach. With the help of an unexpected ally, Aileana re-enters the human world, only to find everything irrevocably changed. Edinburgh has been destroyed, and the few human survivors are living in an uneasy truce with the fae, while both worlds are in danger of disappearing altogether. Aileana holds the key to saving both worlds, but in order to do so she must awaken her latent Falconer powers. And the price of doing that might be her life.

Rich with imaginative detail, action, fae lore, and romance, The Vanishing Throne is a thrilling sequel to The Falconer.
Thank you to Netgalley and Chronicle books for granting me access to this title in exchange for an honest review.
The Vanishing Throne picks up where book one left off. The world is in chaos and Aileana has been captured by Lonnrach where she finds herself in a sort of purgatory world. She has no idea what happened to her home, her friends, and her fae love, Kiaran. She is about to find out, and it will not be pretty.
First off, the pacing was excruciating slow for the first 40% of the book. Nothing exciting was really happening, and I honestly was about to DNF the book. I am SO glad that I stuck with it, because once the pace picked up, I could not stop reading.
This book is so much darker than The Falconer. There is endless death and destruction. Aileana no longer has to worry about hiding her identity from society because of the war. She matures so much here because of everything she has endured since her mother's death. One of the worst things that she has to deal with is the guilt she feels. As the last Falconer, she was supposed to save the world from the fae, and she failed. She also goes through intense physical and emotional pain this go around, and she was not the only one.
We barely met Kiaran's sister, Aithinne, in book one. Thankfully she has a lot of page time in The Vanishing Throne, because she was awesome! She was so badass, and unlike her brother she had a sense of humor. But underneath that tough exterior, we learned that she went through the same torture the Aileana did at the hands of Lonnrach. Both women forge a bond because of it, and their friendship was wonderful to read.
My favorite character ever, Derrick, came back and I was so happy to see him. He was the funniest part about The Falconer. He was such a cute sidekick. We learn there is more to Derrick than just sewing beautiful clothes and eating honey. Poor Derrick went through a lot as well over the years.
Without giving too much away, more characters return. All have changed because of the fae war, and some for the worse. Friendships are tested in the worst way, enemies become allies, and the stakes are higher than ever.
Just like in book one, there is a crazy cliffhanger! It was so good though, and totally unexpected. Now begins the wait for the final installment.
Fans of fae, fantasy, and steampunk will enjoy this sequel to The Falconer. Give it a chance, because it just keeps getting better!