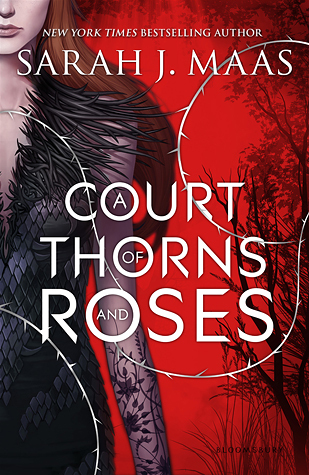 Release Date: May 5th, 2015
Publisher: Bloomsbury Children's
Series: A Court Of Thorns And Roses #1
Format: Hardcover, 416 pages
Source: Purchased
ADD TO GOODREADS
Amazon
When nineteen-year-old huntress Feyre kills a wolf in the woods, a beast-like creature arrives to demand retribution for it. Dragged to a treacherous magical land she only knows about from legends, Feyre discovers that her captor is not an animal, but Tamlin—one of the lethal, immortal faeries who once ruled their world.

As she dwells on his estate, her feelings for Tamlin transform from icy hostility into a fiery passion that burns through every lie and warning she's been told about the beautiful, dangerous world of the Fae. But an ancient, wicked shadow grows over the faerie lands, and Feyre must find a way to stop it... or doom Tamlin—and his world—forever.
Everyone just needs to declare Sarah J. Maas the Queen of the YA Fantasy genre! She is just that good. First she blows me away with Heir of Fire and now she does it again with ACOTAR!!! Hail to thee, Sarah, hail to thee!
There is honestly nothing I disliked about this book, except there could have been more action. The most action happened towards the end of the book. Though I suspect that Maas is going to up the ante throughout the series. The first few chapters are slow but as soon as we are introduced to dear Tamlin, things get very interesting! Is it hot in here or is it just me reading the scenes between Tamlin and Feyre? Whew. I loved reading those scenes because they had true chemistry, which is hard to translate onto paper, but Sarah managed to do that and more! It was sensual and seductive, that's for sure. Sarah turned up the heat with this new series, which is a nice transition into the NA world.
Her writing is smooth and flawless, with descriptions that made me wishing that Prythian was real so I could see what Feyre was seeing. The romance scenes between Feyre and Tamlin were steamy and sensual!
"He brought his lips to my ear. "I would have been gentle with you, though." I shuddered as I closed my eyes. Every inch of my body went taut as his words echoed through me. "I would have had you moaning my name throughout it all. And I would have taken a very, very long time, Feyre."
I liked Feyre because she was a strong character and she had been through a lot. She only wanted the best for her family even when they treated her like dirt. She's very strong willed and that causes problems for her, but she is able to overcome that in order to grow.
The secondary characters, Lucien and Rhysand, were great too. Even Feyre's sister Nesta surprised me. I really hated all three of those characters at first, but grew to like them. Rhysand, Lucien, and Tamlin just need to become real. ;)
I really enjoyed the ending, even though Feyre's last encounter with Rhysand had me asking a million questions. What or who did he see on her face?! Darn you Sarah!
Overall, if you liked Beauty & The Beast but you want something with more magical elements and a hell of a lot more steamy sensuality, pick up this book now! This new series solidifies my statement that I will read ANYTHING that Sarah writes.
I have A Court of Mist and Fury in my possession but I cannot read it yet. The wait it torture!