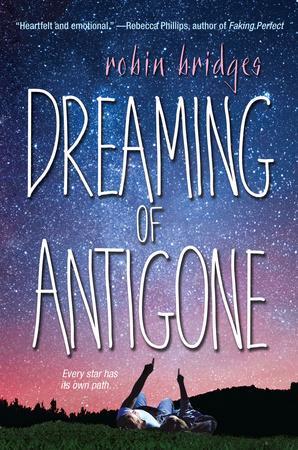 Publication Date: March 29th, 2016
Publisher: Kensington
Series: None
Format: e-ARC
Source:Netgalley
ADD TO GOODREADS
Amazon
Andria's twin sister, Iris, had adoring friends, a cool boyfriend, a wicked car, and a shelf full of soccer trophies. She had everything, in fact—including a drug problem. Six months after Iris's death, Andria is trying to keep her grades, her friends, and her family from falling apart. But stargazing and books aren't enough to ward off her guilt that she—the freak with the scary illness and all-black wardrobe—is still here when Iris isn't. And then there's Alex Hammond. The boy Andria blames for Iris's death. The boy she's unwittingly started swapping lines of poetry and secrets with, even as she tries to keep hating him.

Heartwrenching, smart, and bold, Dreaming of Antigone is a story about the jagged pieces that lie beneath the surface of the most seemingly perfect life…and how they can fit together to make something wholly unexpected.
Thank you to Netgalley and Kensington books for granting me access to this title in exchange for an honest review.
Dreaming of Antigone was much more darker than I had expected. It dealt with the hard hitting topic of heroin and what happens to families because of it. Heroin has been in the news even more lately because more people are using it, and since users are so different across the spectrum, people are surprised when they discover who is actually using it in their circle. This book also dealt with sexual abuse of children and what happens as a result of it.
I really did not like Andria at all, and that's saying something. I did feel sorry for her because of what happened to her sister, but she wanted to place the blame on everyone but Iris, which wasn't fair. Yes, the people in Iris's circle didn't help with the drug use, but nobody forced her to use any drugs. Andria should have recognized that.
She was also a pushover when it came to her sister's friends. They only seemed to really want to hang out with her because she was Iris's twin. That was not right at all. Even though Andria had health issues that could mean death for her, they still pressured her into doing things she didn't want to do. She should have had more of a backbone when it came to them.
Andria's mother was no better. They had terrible communication about everything going on. When something major happened in the book, Andria's mother did not want it to get out to protect her family's reputation, which was ridiculous. She was more concerned with that than of what happened to her daughter. She and Andria needed serious counseling, because their home life was not normal or good at all.
The "love story" was not cute at all. I really enjoyed the secret poetry, but once it was revealed who was doing it, I stopped liking it. I'm sorry, but there is nothing romantic with dating your dead twin's old boyfriend. It's cringeworthy. It also felt forced because Andria kept going back and forth with her feelings and then there was the guilt aspect. She also seemed to want to be with him because it might "fix" him which was pretty messed up, in my opinion. You shouldn't want to be with someone just to try and fix them.
One of the main issues I had with this book was that when these hard hitting topics like drug use, suicide, and sexual abuse came up, the characters had very little emotion towards it. It was like the issues were brought forth and they were just skimmed over until everything resolved itself at the end.
The good parts about the story were the astronomy references and of course the story about the Greek tragedy, Oedipus Rex. I would have liked Bridges to write more about Antigone, because many readers probably will have never have heard of the play, and although she did explain it a little, more could have been done.
I think that readers might be put off with how things are handled in this book but if you are looking for a quick read, this is it.