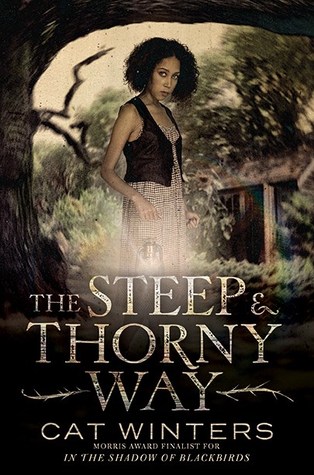 The Steep & Thorny Way by Cat Winters
Publication Date: March 8th, 2016
Publisher: Amulet Books
Series: None
Format: e-PUB
Source: Netgalley
Amazon
|
B&N
ADD TO GOODREADS
A thrilling reimagining of Shakespeare's Hamlet, The Steep and Thorny Way tells the story of a murder most foul and the mighty power of love and acceptance in a state gone terribly rotten.

1920s Oregon is not a welcoming place for Hanalee Denney, the daughter of a white woman and an African-American man. She has almost no rights by law, and the Ku Klux Klan breeds fear and hatred in even Hanalee's oldest friendships. Plus, her father, Hank Denney, died a year ago, hit by a drunk-driving teenager.

Now her father's killer is out of jail and back in town, and he claims that Hanalee's father wasn't killed by the accident at all but, instead, was poisoned by the doctor who looked after him—who happens to be Hanalee's new stepfather.

The only way for Hanalee to get the answers she needs is to ask Hank himself, a "haint" wandering the roads at night.
Thank you to Netgalley and Amulet books for granting me access to this title in exchange for an honest review.
First, I will say that not everyone will like this book. It is good, but it is not perfect, and the mixing of the genres might not be everyone's cup of tea. That being said, I did enjoy it. It was sad, horrifying, and it covers important topics that we are STILL dealing with in 2016.
Hanalee is a bi-racial teenager living in 1920's Oregon. Her father was killed under mysterious circumstances and she will stop at nothing to find the truth about how he died, including committing murder. But as she starts uncovering the truth, she stumbles upon a realization more horrifying than she could have ever imagined.
I have not read Hamlet since high school, so I was a little fuzzy on what happened, but I did remember there was a ghost involved. This was one of my main issues with the book. Hanalee and some people in her life see her father's ghost from time to time, as if he needs to finish something before moving on. It was also too convenient that he ended up pretty much telling Hanalee everything she needed to know to solve his murder. I would have liked it to be a little harder for her to figure out, because it was just too easy. Plus, I think the Hamlet re-imagining really took away from the seriousness of the issues presented in the book, namely the Klu Klux Klan's involvement.
Speaking of the Klan, I need to seriously read more American history because I had no idea that the Klan was ever in Oregon. When you hear someone talk about Oregon in American History, you atomically think of the Oregon Trail and the Gold Rush of the 1800's, no the Klu Klux Klan. Cat Winters even had real pictures and facts in the book detailing the Klan's presence in Oregon. I was surprised. That showed how little I know of our nation's history.
Back to the book. I was hooked from the first page. That's how good it was. Hanalee was a likable character, even though she made some rather stupid decisions that put her and her friend in danger multiple times. I felt so bad for both of them because they were in danger because of who they were. They did not kill anyone or hurt anyone, but they were simply different.
Can you imagine how they felt? Can you imagine how actual people felt during that time? Just reading this book made me scared and angry for them. I was angry at how they were being treated by others. Winters's writing was so real, that I sensed the fear, anger, and desperation that the characters were experiencing.
If you are different, you are a problem.
"Hate is a powerful demon that worms its way into the hearts of fearful men."
Oh, how sad and true that statement is. We live in a world of hate. Even in this fictional book where hate runs rampant, Hanalee and her friend still have hope that there is good elsewhere. Hope is the beacon that keeps so many people going. Cat Winters wrote a beautiful book with real world issues that still plague us today.
I was not pleased with how quickly the book wrapped up. Everything went from terrible to ok in such a short amount of time. I understand that this was just a standalone, but I think it would have been better to have more pages to let it end at a slower pace. Also, an epilogue that showed how the characters were doing after everything they had been through would have been good. I became so invested in this story that I wanted them to succeed.
Quite frankly, I think this book needs to be read in schools. Considering like I said that we are still dealing with race, religious, and sexuality issues, I think young students need to read these kinds of stories. They are important and they cannot be forgotten.
Even though I am rating this a 3.5, I will recommend this book to everyone because of the important social issues that it brings up that are still prevalent in today's world. This book will remind readers of our country's past, but it might also challenge them to hope for a better future.