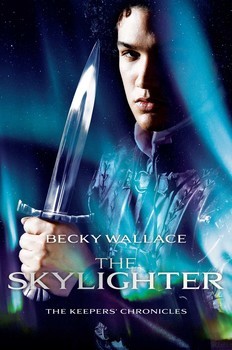 The Skylighter by Becky Wallace
Publication Date: March 22nd, 2016
Publisher: Margaret K. McElderry Books
Series: The Keepers' Chronicles #2
Format: e-PUB
Source: Edelweiss
Rating: 4 Stars
Amazon
ADD TO GOODREADS
Johanna and Rafi are in a race against time to save their country before a power-mad Keeper destroys everything they hold dear in the "enthralling magical world" (Cinda Williams Chima, author of The Heir Chronicles) introduced in The Storyspinner.

As the last of the royal line, Johanna is the only person who can heal a magical breach in the wall that separates her kingdom of Santarem from the land of the Keepers, legendary men and women who wield elemental magic. The barrier protects Santarem from those Keepers who might try to take power over mere humans…Keepers who are determined to stop Johanna and seize the wall's power for themselves.

And they're not the only ones. As the duchys of Santarem descend into war over the throne, Johanna relies more than ever on the advice of her handsome companion, Lord Rafael DeSilva. But Rafi is a duke too, and his people come first. As their friendship progresses into the beginnings of a tender relationship, Johanna must wonder: is Rafi looking out for her happiness, or does he want the throne for himself?

With war on the horizon, Johanna and Rafi dodge treacherous dukes and Keeper assassins as they race to through the countryside, determined to strengthen the wall before it's too late…even if it means sacrificing their happiness for the sake of their world.
Thank you to Edelweiss and Margaret K. McElderry Books for granting me access to this title in exchange for an honest review.
When I first read The Storyspinner, I was blown away by this amazing story that Becky Wallace had written. I loved the plot, writing, and characters. Everything came together so seamlessly to get me invested into intricate story. When I finished the book, I felt a pang of sadness that it was over, and immediately wanted to get my hands on the next installment. Even though I had to wait over a year for The Skylighter, it was worth it.
The Skylighter starts where book one left off. Immediately we are thrown back into this tumultuous world where Johanna narrowly escapes danger with Rafi. I must confess that I did not clearly remember what had transpired at the end of TS, but as soon as I began the book it all came rushing back. While the pacing could have been a little faster, I understand why is what drawn out.
What intrigued me about this series is that Wallace wrote multiple POV's. As we all know, this can either be good or bad. Sometimes it is extremely hard to follow them, but once you know who is who, it is easy. I actually enjoyed them because it allowed me to really get to know all of the characters so that I could form a connection with them. What surprised me the most was that I really enjoyed Dom (Rafi's younger brother), more than anyone else. On the surface he is a shallow, privileged son of a Duke, but once I got deeper into the story and read his thoughts and feelings, Dom became so much more. His character had the most development. Dom went from a shallow playboy with no responsibilities to a hardened leader who actually cared about his people. It was great writing.
As typical in the Fantasy genre, there was action, political intrigue, plotting, romance, betrayals, and more. At no point in this book was I disappointed by what was going on. Actually, I take that back. I was slightly disappointed at the end because I feel like it wrapped up too quickly, and I would have been satisfied if there had been an epilogue letting us know what our characters were up to after everything. Leao and Pira's storyline kind of fizzled out and readers are left to speculate about their relationship.
I have to mention the covers of this series.
I really do not think they reflect the content of these books at all. We all know that many readers will ultimately judge books based on their covers, and I think in the case of this series, they might put readers off. It's disappointing because this is such a great series that deserves more recognition. I just wish the covers were better.
As this was a lighter fantasy series, I knew the reveals would not be super hard to figure out. But it was tastefully written so that even though a reader might know what it is early on, there is still that element of, "Wow, that was good!"
Two things that can really ruin a fantasy book for me are magic and villains. Thankfully, Becky knew what she was doing when it came to both. The magic or essencia was not overwhelming to the books. Only certain people had it, and if they did many did not know it. Even our MC was not made out to be a special snowflake, which is an overused YA trope. In the case of the villains, Wallace made me change my tune. I HATED a certain female villain that was introduced in book one and by the end of The Skylighter I felt so much pity for her. That is not easy to do. Damn you, feels!
I hope that fantasy fans will give this little know series a chance. When I say little known, I mean it obviously is not as well known as some of the bigger fantasy series out there, which is a shame. I kind of wish this had been a trilogy because I am sad that the journey is over. I grew to love these characters and this story, and I hope some of you will as well.