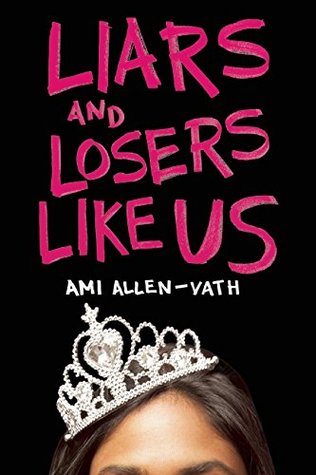 Liars and Losers Like Us by Ami Allen-Vath
Publication Date: March 15th, 2016
Publisher: Sky Pony Press
Series: None
Format: e-PUB
Source: Edelweiss
Amazon
ADD TO GOODREADS
For seventeen-year-old Bree Hughes, it's easier said than done when gossip, grief, and the opportunity to fail at love are practically high-fiving her in the hallways of Belmont High.

When Bree's crush, Sean Mills, gives her his phone number, she can't even leave a voicemail without sounding like a freak. Then she's asked to be on Prom Court because Maisey Morgan, the school outcast nominated as a joke, declined. She apologizes to Maisey, but it's too late. After years of torment and an ugly secret shared with their class's cruel Pageant Queen, Maisey commits suicide. Bree is left with a lot of regret…and a revealing letter with a final request.

With Sean by her side, Bree navigates through her guilt, her parents' divorce, and all the Prom Court drama. But when a cheating-love-triangle secret hits the fan after a night of sex, drinks, and video games, she's left with new information about Sean and the class Pageant Queen. Bree must now speak up or stay silent. If she lets fear be her guide, she'll lose her first love, and head to prom to avenge the death of the school outcast—as a party of one.
Thank you to Edelweiss and Sky Pony Press for granting me access to this title in exchange for an honest review.
When I first read the summary for this book, I was nervous because there is so much going on and you never know how a book will go with that. Issues of the book aside, it was very addictive. I read it in a few hours at work because I had to know what was going to happen! It is also a very quick read.
Our main character, Bree, is pretty messed up. She has severe anxiety which causes intense panic attacks which we know can be crippling. She is also dealing with the divorce of her parents. There is also the issue of her major crush on the hottest guy in school, Sean. To add even more crazy into the mix, her best friend nominates her for the prom court and when the school outcast drops out of the court, Bree takes her spot. Then things go downhill, fast.
I knew from reading the summary that this wouldn't be a light and fluffy read. Sure, there is love, but there is also suicide and finding ways to deal with that. I think that Amy Allen-Vath did a great job portraying high school bullying. Even if a certain person doesn't participate in the bullying, they can feel just as guilty if they did nothing to stop it, which is one of the themes of Liars and Losers Like Us.
One of the only issues I had with the book was with Bree. I did like how she wasn't this perfect character because of her anxiety, but she was so immature for a senior. She liked to run away from her issues and push people away, which caused even more issues for her. The first couple of pages are of her inner monologue talking about Sean, who sits in front of her. Basically, it was a little creepy. In between fights with her friend she would act really immature by not calling her, talking to her in school, etc. I wanted to shake her because of it. You don't do that to your best friend even if she's doing it to you. Be the bigger person! I will say that she got 100x better at the end when she was able to overcome everything and make this badass speech at the prom.
On a bright note, her romance with Sean was written perfectly, aside from the creepy staring in class thing. It was not love at first sight, and they didn't immediately jump into a relationship. They started off as kind of friends, and then it went from there. It was a cute high school relationship.
The dark theme of suicide in this book is smaller than the romance, but it is no less important. In fact, it is one of the reasons that Bree matured towards the end of the book and was able to find her voice and stop running from her problems. The ending was the best part, and it really tied everything together in a great way.
If you're looking for a quick read about high school drama, angst, love, grief, anxiety, and finding one's self, this is a great book for that.