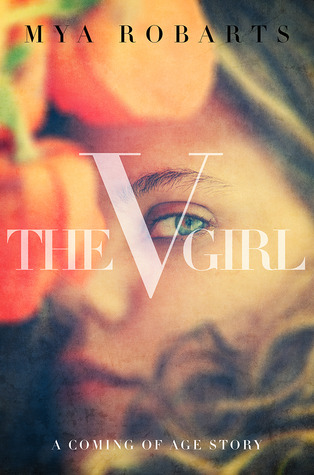 The V-Girl by Mya Robarts
Publication Date: July 1st, 2014
Publisher: Self
Series: None
Format: e-PUB
Source: Netgalley
Rating: 3 Stars
Buy it here:
Amazon
In post-apocalyptic North America, rape and sexual slavery are legal. Lila Velez, desperately wants to lose her virginity before the troops visit her town and can take it away by force. She makes plans to seduce her only friend, Rey, the most attractive man in her town. Lila does not love him but he is the only man who has shown her true affection, an affection she is willing to take as a substitute of love.

Lila's coping mechanism to her mother's rape and kidnapping is her secret. A secret that will bring her closer to Aleksey, a foreign, broody man. Lila does not trust him because his links to the troops and his rough, yet irresistible appearance. Aleksey offers Lila an alternative to her plans, a possibility that terrifies her…and tempts her in spite of herself.

All the while Lila will have to find a way to live in the constant company of death, slavery, starvation, sexual abuse and the danger of losing the people she loves the most.
Thank you to Netgalley and the author for granting me access to this title in exchange for an honest review.
**Warning: This book may be a trigger**
I wanted to read this book because I have honestly thought about what would happen if a civil war ever broke out again in our country. Honestly, it would be terrifying, and this book was probably a really good indicator of what would happen. I also really wanted Lila to find love in the midst of a terrible time.
Nobody likes the topic of rape. It's brutal and horrifying, and yet I read a book that was mostly about rape due to a civil war. Our main character wants to lose her virginity willingly before it is taken from her by force by an enemy soldier. In her city of Starville (GAG), people make fun of her for being a virgin. She and her family are social pariahs because of their heritage and her virgin status. In present day America, we want our kids to stay virgins for as long as possible but in this dystopian world, they either lose it quickly or it gets taken from them, which is sad and horrifying.
Lila as a character was ok. Her motivations for wanting to lose her virginity I was on board with 100%. Her choices....not so much. When she fails to seduce her best friend, she still tries to have a sexual relationship with him off and on in the book. She gets turned on by him one second, and then the next second she doesn't want anything to do with him. I honestly wanted to shake her because after he mistakenly called her his dead ex-fiance, she should have washed her hands of him. The guy was clearly still in love with a dead woman and Lila was still trying to get with him. Not cool. She also put herself in danger too many times to count. If a strange voice calls your name from the trees/bushes, it's probably not a good person. She also generalized everyone. I can understand why she would think all soldiers would be bad based on events in her past and present, but she should know when someone wants to hurt her. She was fickle with her feelings at times. Pick someone and move on! Stop going back and forth.
My favorite part/person in this book was Aleksey. He was the most complicated and tortured soul out there. On the exterior he is a rough and tough looking ex-soldier type, but inside he is filled with emotions, waiting for the right person to open up to. I was rooting for him from the get go. Brooding males are definitely my type, and he had it going on.
On the topic of the rape/brutalizations depicted in the book, I think Robarts wrote them very accurately. We tend to not really think about what can happen in war because it is not happening here, but this book forces us to really ask, "What if?" In war, nobody is safe, male/female, young/old, etc. It's a sad reality that so many people have to deal with today. In The V-Girl, we get to read about the different fears that people have when it comes to the war.
The romance between Aleksey and Lila was really well written, despite their circumstances. You would think that since she was trying to have sex for the first time that it would be rushed and insta-lovey, but that was not the case. Yes, it started out as insta-lust, but their romance was a slow burn. Even though Aleksey was nothing but good to her, she still didn't full trust him. She laid down the law when it came to them because even though she was in a time crunch, she wasn't going to settle. I liked that about her. Their relationship was a little slice of heaven in a brutal and cold world.
If you can handle tough content like rape, death, starvation, brutality, etc, then I would suggest picking up this book just to read what it could be like to experience what Lila was going through.