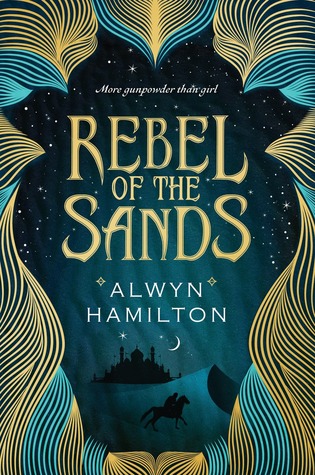 She's more gunpowder than girl—and the fate of the desert lies in her hands.

Mortals rule the desert nation of Miraji, but mystical beasts still roam the wild and barren wastes, and rumor has it that somewhere, djinni still practice their magic. But there's nothing mystical or magical about Dustwalk, the dead-end town that Amani can't wait to escape from.

Destined to wind up "wed or dead," Amani's counting on her sharpshooting skills to get her out of Dustwalk. When she meets Jin, a mysterious and devastatingly handsome foreigner, in a shooting contest, she figures he's the perfect escape route. But in all her years spent dreaming of leaving home, she never imagined she'd gallop away on a mythical horse, fleeing the murderous Sultan's army, with a fugitive who's wanted for treason. And she'd never have predicted she'd fall in love with him...or that he'd help her unlock the powerful truth of who she really is.
I don't know about you, but I'm really excited for this book! It sounds wonderful, and we all know how much I love fantasy! I thought about what I would be known for in the book world, and I have to say it would be a mix of two things:
1) Impulse buyer of brand new books that I cannot seem to read-I often will buy books as soon as they come out, sometimes 6 at a time! Of course, those are added to my already huge TBR pile on my bookshelf.
2)Forever Fantasy lover-If it's Fantasy, I will most likely read it!
Now, who is ready for a giveaway? Thank you to Penguin Teen for sponsoring this giveaway!
**This is for US only and will run through January 18-March 5!
Rebel of The Sands
is also available for pre-order! Buy it here: http://www.penguinrandomhouse.com/books/319006/rebel-of-the-sands-by-alwyn-hamilton/