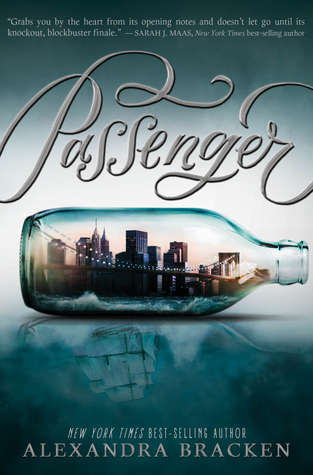 Passenger by Alexandra Bracken
Publication Date: January 5th, 2016
Publisher: Disney-Hyperion
Series: Passenger #1
Format: e-PUB
Source: Netgalley
Rating: 3.5 Stars
Buy it here:
Amazon
|
B&N
ADD TO GOODREADS
passage, n.
i. A brief section of music composed of a series of notes and flourishes.
ii. A journey by water; a voyage.
iii. The transition from one place to another, across space and time.

In one devastating night, violin prodigy Etta Spencer loses everything she knows and loves. Thrust into an unfamiliar world by a stranger with a dangerous agenda, Etta is certain of only one thing: she has traveled not just miles but years from home. And she's inherited a legacy she knows nothing about from a family whose existence she's never heard of. Until now.

Nicholas Carter is content with his life at sea, free from the Ironwoods—a powerful family in the colonies—and the servitude he's known at their hands. But with the arrival of an unusual passenger on his ship comes the insistent pull of the past that he can't escape and the family that won't let him go so easily. Now the Ironwoods are searching for a stolen object of untold value, one they believe only Etta, Nicholas' passenger, can find. In order to protect her, he must ensure she brings it back to them— whether she wants to or not.

Together, Etta and Nicholas embark on a perilous journey across centuries and continents, piecing together clues left behind by the traveler who will do anything to keep the object out of the Ironwoods' grasp. But as they get closer to the truth of their search, and the deadly game the Ironwoods are play­ing, treacherous forces threaten to sep­arate Etta not only from Nicholas but from her path home . . . forever.
Thank you to Netgalley and Disney-Hyperion for allowing me access to this title in exchange for an honest review.
So, this was more of a 3.5 for me, and I wanted to rate it higher, but a few things bugged me about it.
First off, our main character Etta was kind of annoying. She thought she was better than everyone around her and even had an inner monologue conversation about it. She was also impulsive and reckless in her decision making, which got her and her companions into trouble. Not very smart.
When I first began the book, I was surprised that there was no hook. In a word, it was pretty boring until Etta was pulled from the 21st century to the 18th century. But soon it got boring again until important things started happening. The pacing was also very slow. Usually I can knock out a 500 page book pretty quickly, but I kept finding it hard to keep reading because of how slow everything was. I also had to factor in the massive amounts of info dumping that happened. We were introduced to so many characters, rules, places, etc, that it got hard to keep up.
Sort of insta-love. Yes, the dreaded insta-love was there. When Etta ends up on Nicholas's ship, he has this immediate attraction to her and even gets jealous when the ships surgeon touches her to save her life! Shortly after, he gets jealous of another man on the ship because he touches her wrist! Gasp! There was not really insta-love from Etta's end which was nice, but when they both started to admit their feelings, there was a lot of inner monologue about why their romance wouldn't work and yada yada yada. It got old when it was in every single chapter. We get it, there are issues preventing them from being together!
I will say that I loved the historical aspects of this book. You could tell that Alexandra did her research. I felt like I was right there with Nicholas and Etta as they were whisked away to different times in history. I also really liked Captain Hall, and hope we get more of him in book two.
Normally I would not really want to pick up the second book in this series based on what I did not like, but the ending was really different than what I was expecting. It made me want to read the next one to see what was going to happen with the series.